How Do I Sleep In The Office?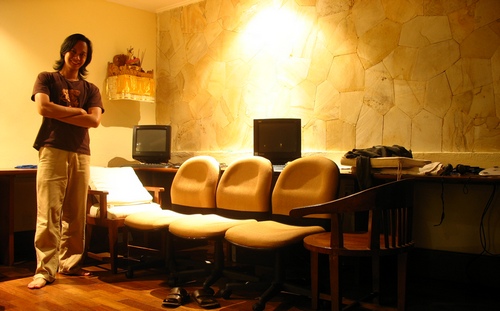 Ever since the third week of my work here at BaliCamp Pacung, I become one of the office habitants. It was started by my senior developer who began sleeping in the office every night a week earlier, and in just a few weeks after, the office habitants have increased to not less than 10 persons (me included :p).
Why do we sleep in the office? There are many reasons actually, but probably the best one is:
"Why Not?"
Bali Camp office compound has all its developers need to stay alive. A cable TV, a ping-pong table, a swimming pool, hot water shower, and broadband internet connection. A simple and affordable warung (eatery) and laundry is just beside the compound whenever we need foods to eat and clean clothes to wear. Besides, BaliCamp office compound hardly feel like an office at all.
"But How Do You Sleep In The Office?"
This is one of the most asked questions for me lately by many of my friends and families. Honestly, it's kinda hard to describe it whenever they ask me this. So I decided to take pictures and show how to do it here in this post. Hope this answer the question! 😀