Behringer HPM1000 Headphone Review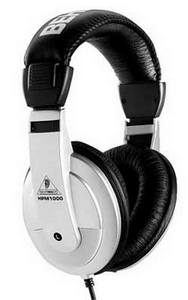 I heard the brand Behringer few years ago when I was still in the Philippines, and I tested their headphone back then. I remember the price was around Php 1,000 ($20). Unfortunately I don't remember how the sound quality was and what was the series.
As I returned to Bali last week I noticed my work colleague has a new Behringer headphone, HPM1000. Curious about the sound I tested it and here is my review of the headphone.
Sound
I believe the headphone has already burned in by the time I tested it because my friend have bought for a while, so there will be no excuse.
I tested the headphone for its bass punch sound immediately because I expect its big driver to deliver some deep bass sound. It pass very well and to some extend it surpass the Sennheiser PX 100 that I have.
All bass and no detail will make a headphone a dull one, so I tested the detail sound next.
Hmmm… probably it is really the fate of entry level headphone to lack the detail and crystal clear sound. HPM1000 is somehow has a warm characteristic that makes some of the brighter sound seems lacking.
Physical Factor
Ok, let's get physical this time.
Behringer HPM1000 is a headphone type so it's a bulky one that normally sits in the house and not to be carried around with your portable music player.
There is something lacking about how it supposed to cover my ears. The earpiece design is stiff so it doesn't adjust with our ear position. Simply, it doesn't cover my ears perfectly. Sadly, this may result to unoptimal sound quality.
Price
Behringer HPM1000 is tagged at $15 at Froogle (Google's version of Amazon) and around $20 here in Indonesia. A very competitive price with such quality. 😀
Conclusion
Finally I can write the review of Behringer headphone after several years ago I tested one.
Behringer HPM1000 is one great entry level headphone that brings good bass punch though detail is quite lacking in this headphone.
At $15-$20 it's indeed a bargain, a great sound above ordinary headphones, unfortunately nothing that makes me awe.