Bose QuietComfort (QC) 20 Noise Cancelling Earphones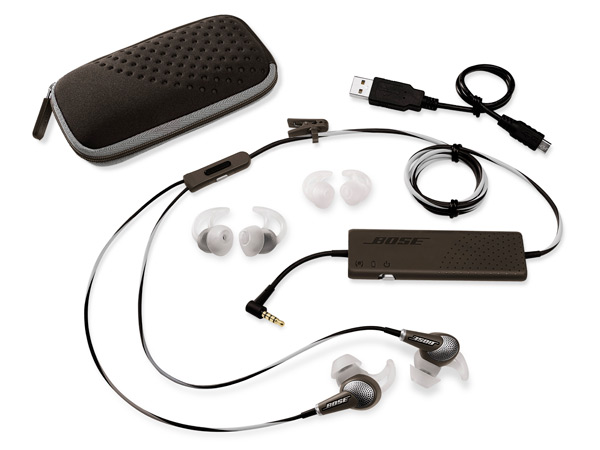 Last month, I travelled back to Indonesia after a few years here in US and I was looking for a good earphone to accompany me on my 33 hours one-way flight.
Naturally, noise cancelling earphone or headphone is the first thing that came to my mind, and what company have the best noise cancelling product other than Bose.
I was glad that Bose produced QC20 that promised all the noise cancelling goodness of their long reigning QC15 noise cancelling headphones, all in a a lot smaller (and definitely lighter) form.
I ordered QC20 and put it to the test. Here's the review. 
Sound
To me, QC20 sounds very pleasant, it just deliver a good sound quality without trying hard.
Is it what the audiophiles call "No highs, no lows, must be Bose"? Maybe.
Is it impressive? No. But, does it deliver? Absolutely.
The sound is clear without any noticeable distortion at any level. I think it really fits the target market of Bose, the people who wants to listen to a good sound without being too critical. 🙂
Features
Though the sound may not be impressive, the noise cancelling definitely is. You won't appreciate it until you use it in an airplane or any places with some constant machine hums.
When I first tried it at home, I was disappointed because I couldn't hear much difference with or without the noise cancelling switch on, other than it was more amplified when turned on.
Then I brought it to office and gave it a try. I still didn't notice the difference until I turned it off when my work colleague came to my cubicle. All of a sudden, I realized that the office A/C actually produce a lot of noises and QC20 cancelled all that noises when I put it on.
So I gained confidence on this little earphone, and naturally, it did well on the >30 hours flights too.
When it comes to comfortness, I think it's a little bit more comfortable than other in-ear earphones I tried, but it's still not suitable for me on a long flight. I'm not blaming this to Bose, it's just the nature of in-ear earphones.
Design
I always like the clean, simple design of Bose products, QC20 included.
Light brown and gray color of the earphone doesn't scream out for attention, because the Bose brand on the product itself is enough to tell people that you're not into cheap stuff.
QC20 comes with a small neoprene pouch (smartphone size) to store the earphone, cables, and different earbuds size it comes with.
People complain about how Bose designed the battery component. Though it is indeed a bit weird, I don't think it's a big problem, because it's really not that big anyway.
Price
I bought it for $300 from Bose.com.
Conclusion
For a frequent traveller, QC20 is a very good alternative to the bulky QC15 without sacrificing the sound quality and noise cancelling feature. It's light, work well, and looks good.
However, for me, I just don't see that I will use this earphone often since I don't travel much. For my daily driver, I still use my Sennheiser PX-100 I (4 years old and still keep going). So, after I completed this review I'm going to return the earphone to Bose, thanks to their 30-day trial period.