Four Sabbath School Video Discussion Resources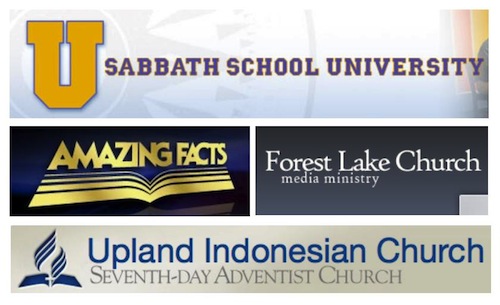 It is really interesting to know that there are several video of Sabbath school discussions online now. Four years ago I only know Sabbath School University that I usually watch before I lead Sabbath school (SS) class discussion in my church.
Watching SS discussion online is helpful for SS leaders because this will help them to hear some of related discussion possibilities of the lesson, and also see how the other SS leaders lead a group discussion. I strongly suggest SS leaders (especially new leaders) to at least watch one of these videos prior to lead a SS group discussion.
Sabbath School University
This is simply my favorite SS video discussion because it is a young adult SS group of 4 people (Andrews University students) and it runs for 28 minutes, so it doesn't really bore me. Depending on the participants and the leader, sometimes the discussion can be very interesting. It is structured very well although it doesn't follow the day to day SS lessons.
Amazing Facts Central Study Hour (Sacramento SDA Church)
If you've watch one of Doug Batchelor's Amazing Facts program, then you know the great Bible knowledge he has, and how interesting is his presentations. The AF Central Study Hour is a 60 minute long lead by him or the church's Youth Pastor. It was more like a sermon actually, so the pastor speaks in front of the church and the only participation of the congregation is reading the Bible passages.
Hope Sabbath School Study (Forest Lake Church)
The Hope SS Study is a mix of both SSU and AF Central Study Hour. It is lead by a Pastor, but it is not addressed to a church congregation. The participants are a group of 12 young adults and thus there is more interactions compared to AF CS Hour presentation. It is a 60 minute video that is full of good discussions.
Upland Indonesian Church – by Roger Tauran (lesson in Bahasa Indonesia)
link
link to Dr. Roger Tauran's vimeo
This is the only SS video discussion I found presented in Indonesian language. It is a 30 minute SS lesson delivered by Pastor Tauran, and his son, Dr. Roger Tauran. For Indonesians who likes to listen to a good SS lesson video (me included), the effort of Tauran family is greatly appreciated. As this is is probably the only SS lesson video that is member-sponsored and initiated.
The lessons follow the day by day SS lessons in the study guide, but it also includes a lot of extra related stories and information, mostly in health related fields probably because both Pastor Tauran and Dr. Roger Tauran have great interest in health and medical fields.
Summary
It is really good to see that the SDA church are taking the advantage of modern technology, such as internet and videocast, to spread the Sabbath School discussions to more people around the world through the internet.
I hope these projects can overcome all challenges and will not be some short-lived projects only, but rather will be some starting point for reaching out more people who wants to know about Bible and Jesus.