Journey To The West Bali (Gilimanuk and Menjangan)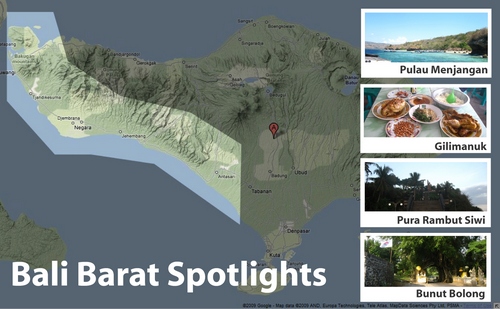 Though not as famous as the other part of Bali, the west side of Bali has a lot of things you can't find in other side of Bali. Last week, me and other 19 of my work colleagues decided to explore this side for two days and we can't be happier during the journey.
We started from Denpasar, visited Bunut Bolong (Pekutatan), stopped at Pura Rambut Siwi, stayed at Gilimanuk, snorkled and get sunburned at Menjangan Island, slapped by Ayam Betutu of Men Tempeh, and went back to Denpasar.
Want more of the details, read on…
Day 01
14:30 (Denpasar)
Cost:
Rp 175,000 (rent one Toyota Avanza car)
Rp 150,000 (full tank of gasoline)
Yay.. It's time to go! Three cars, 20 people, 19 insane psychos (I'm the only normal person), zero bug, and one destination, journey to the west.
16:20 (Bunut Bolong)
Cost:
Rp 0.0
If you think you can only find this kind of view in Sequoia Park, United States, think again.. Bali own one too and you can only find it here at Bunut Bolong.
Actually it's not only a single tree, but consist of several banyan trees joined into a giant tree.
It's 11 km from the main road going to Gilimanuk, and I believe it worth the trip.
17:42 (Pura Rambut Siwi)
Cost :
Rp 2,000 (Parking fee for a car)
Unfortunately we arrived sort of late at this Pura so we can only took few pictures and did not manage (or allowed to) enter the pura to take more pictures inside.
The Pura directly face the sea and you might get a wonderful shots here though the sand is kinda dark.
20:00 (Gilimanuk)
Cost :
Rp 70,000 (1 ayam betutu + 1 basket of rice at Warung Ayam Betutu Bu Lina)
Rp 65,000 – 75,000 (1 room at Hotel Lestari)
Finally, exhausted and hungry, we arrived at Gilimanuk, the most famous port city in Bali. We tried to have supper at the famous 'Warung Men Tempeh' that serves a very hot and spicy Ayam Betutu, unfortunately it was already closed.
But someone points us to the other warung that serves Ayam Betutu nearby (Warung Ayam Betutu Bu Lina), and we ate there.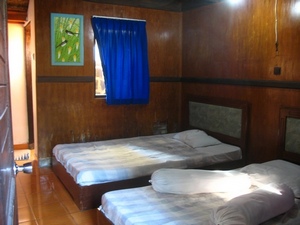 On Gilimanuk, we stayed at Hotel Lestari, just beside the main road. The rate is friendly enough for us. The cheapest room start at Rp65,000 and Rp75,000 per night for 3-4 number of people in our case. Now, that's a bargain..
Day 02
10:00 (Going to Menjangan Island, Labuhan Lalang)
Cost:
Rp 330,000 (1 boat to Menjangan Island)
Rp  75,000 (1 tour guide fee)
Rp  30,000 (1 set of snorkle and goggle)
After a good breakfast at the warung Mbak Nur nearby the hotel and several happy pictures, we are good to go to the Menjangan Island. So be prepare reindeers, we are going to getcha… Hohoho…
10:30 (Menjangan Island)
Here we are at the Menjangan Island. Unfortunately I got no underwater camera to take underwater pictures but just trust me, it worth to go there. Just find 9 of your friends to share the boat fare, and have your way to one of the best sixteen underwater location in Indonesia (I don't made it up, check National Geographic Traveller vol.1 no.3 2009).
Sadly because we didn't go explore the island, we didn't see any of the Menjangan though people says there are 400 of them in the island. Maybe we'll see you the other time Rudolf.
15:30 (Gilimanuk – Warung Men Tempeh)
Cost:
Rp 110,000 (1 ayam betutu + 1 basket of rice)
Back to Gilimanuk to tried the Warung Men Tempeh. Ok chicks, no more hiding this time, come to daddy…
16:30 (Going back to Denpasar)
After we settled our business with the six Ayam Betutu, we are ready to go back to Denpasar. And of course, we don't forget to get some more happy pictures in front of Warung Men Tempeh.
20:00 (Arrived at Denpasar)
After three and a half hour of non-stop riding, we finally arrived at Denpasar.
So that's all our adventure for two days exploring the west side of Bali. Passing through a giant tree at Bunut Bolong, seeing the beauty of Menjangan Island corals and fishes, and get kissed by several very hot chicks (a well cooked Ayam Betutu Men Tempeh) were really unique experiences you can only find at West Bali.
In the end, just like visa advertisement says….
Total cost per person in this journey: ~ Rp 230,000
Number of chicken executed for our meals: 12
Total happiness and fun: priceless