Where In Bali Is Bali Camp?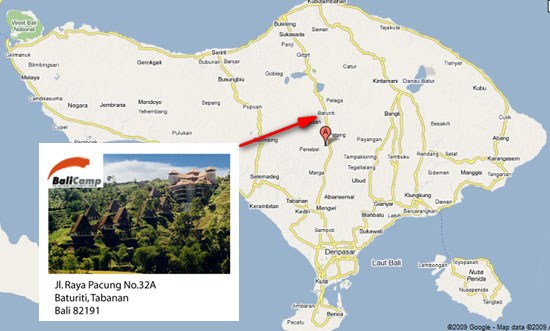 Ok, if you ever visit the company website of Bali Camp, you might have several questions in mind such as:
– Is this really an office?
– Where are the offices, I only see huts?
– I thought Bali is all beach, why it's like all mountain and valley in the picture?
– Where in Bali is it located?
Unfortunately I cannot answer all the questions this time but the last one.
Bali Camp is located at the heart of the island of Bali. Specifically, it's located in Desa Pacung, Kecamatan Baturiti, Kabupaten Tabanan, propinsi Bali.
How to get there?
From Denpasar take the main road going north to Singaraja, also known as the Jl. Raya Denpasar Singaraja. It takes more or less an hour from Denpasar to reach Baturiti, you will pass through many lush green rice fields and coconut trees as you leave the busy, fast moving life in Denpasar.
The beautiful office of Bali Camp is unseen from the main road so you have to pay attention to your left as you enter the Desa Pacung. As a guide, you are already near Bali Camp if you have encounter the Pacung Hotel and Restaurant (also known as Hotel Saranam). About 250m further you will see the Bali Camp office entrance as the Bali Camp sign written in a large stone welcomes you.
The mountainous area you see in the picture is located at a height of +876m with an everage temperature of 22 degrees centigrade. Cool enough to make anyone chill, especially in July and August, when temperature is at its lowest according to the locals.
A half hour ride further you will reach Bedugul with its famous Lake Beratan at +1401m.
If you have time to pass by, do so and you will understand why people awe when they come to the legendary Bali Camp office in Pacung.
Once again, the Bali Camp Pacung adresss is:
Jl. Raya Pacung No.32A
Baturiti, Tabanan
Bali 82191
Oh yeah, the huts and the hotel-like building are the offices..