Voyage Air Guitar VAD-06 Review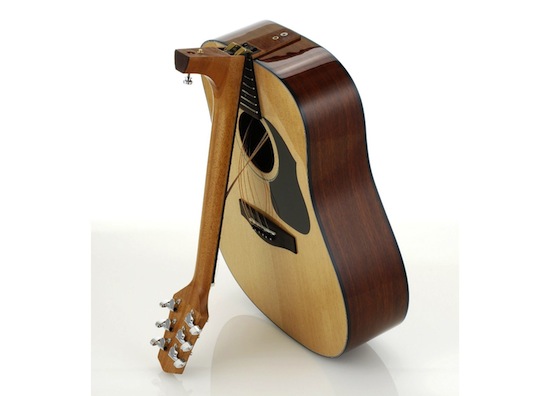 After only four months living in US without a guitar, I wasn't able to take it anymore and I looked for a guitar. However, one basic problem, having a guitar will add to my problem whenever I need to move.
So I was thinking to buy just some pretty basic guitar that I probably can just leave someday, or won't really bother if it get damaged if I travel in airplane. But then, I found Voyage Air Guitar models that sounds too good to be true. It's a foldable guitar and so it can be carried inside the cabin.
Long story short, I bought the Voyage Air Guitar VAD-06 last February, and this is what I found out so far with this guitar. 😀
Sound
This is my first steel string acoustic guitar, so I didn't have any previous guitar I have experience to compare the sound with. However, the top wood is a solid spruce, and the sound is bright enough.
The VAD-06 is also a dreadnought guitar, so in theory, the bass should sound deeper than the standard steel string acoustic guitar. Yet, it still sounds less deep than the Martin DCX1E that my roommate owns.
Although it's categorized as a travel guitar, since it is a full-size dreadnought guitar, it doesn't sound like any travel or compact guitar.
For me, the guitar sounds quite alright.
Playability
The action is lower than the Martin DCX1E, but it still feel quite high for me. Maybe I should try to bring it to a guitar service to have it lowered a little bit more.
Again, it has a full-size guitar size, so it feels like playing any regular guitar.
Durability
It feels good enough, but not as rugged as the Martin DCX1E especially on the side and back part. I think I should take a good care of this guitar.
One note so far, I've broke the 1st and 3rd string and they broke not when I tighten the strings, but when I loosen them. I'm not really sure whether they broke because of the frequent strings loosen and tighten or not, since for this guitar we may need to loosen and tighten the strings more often than any guitar. I will update my findings in the future.
Looks
The VAD-06 series is the middle series of the Voyage Air Guitar line, so it doesn't look really special with natural wood glossy top. Having said that, you still will always awe people when they see you fold the guitar.
Price
I bought the second-hand guitar from Musician's Friend for $480. The price for new guitar in Amazon is $599.

Conclusion
If you travel a lot, or for whatever reason you need a travel guitar that can be transformed into a full-size guitar, than this is the guitar for you.
The company really had a very great idea inventing a foldable guitar so the portability won't compromise the sound quality.
Anywhere I go with this guitar, people couldn't believe what they see when I fold the guitar.
But what if you don't travel at all and just need a guitar with a good sound? In that case I don't suggest this guitar because the price seems a bit too expensive for guitar with this quality.
Still curious how it sounds? Check this Youtube video by guitarij: