Altec Lansing VS2621 2.1 Speaker Review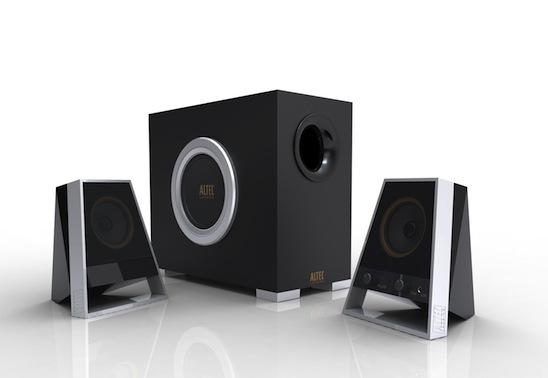 After bunch of earphones, headphones, now is the time to review the Altec Lansing VS2621 that I bought last year's black Friday sale.
To be honest with you all, I never planned to buy this speaker. I went to Staples to buy the Logitech Wireless Mouse M510
that I've reviewed also in this blog. Then, I saw the speaker with a price that almost hard to resist. The next thing I know is, I'm carrying the speaker box out of the Staples. :p
I've used the speaker for more than four months now, and here I'm sharing the review of what I think about the speaker.
Size and Form
First I want to clarify first that the Altec Lansing VS2621 is rather a small 2.1 speaker set compared to other Altec Lansing speaker I've seen. Back when I was in college, the brand was simply a standard choice whenever my friends are buying a complete PC set.
The speaker packaging box somehow quite mislead me. The sattelite speakers are small and also the subwoofer. But rather than disappointed, it actually made me happy :D. Because I still move places quite often, the small size of this speaker set made it quite portable.
The subwoofer are just a standing black box made of wood, with a hole in front and speaker membrane on the side (4″ side firing). While the sattelite speakers are two small speakers (2″ drivers) with volume and tone adjustment know on the right sattelite speaker.
Sound
The golden rule of choosing an audio gadget, 'never judge the sound quality by the brand'. Okay maybe you've never heard that before, because I've also just made it up a few minutes ago. But that's really how I review all the audio gadgets in this blog.
I've heard a good Altec Lansing speakers before, and I've also heard a pretty bad ones too. So where the Altec Lansing VS2621 fall into? It's in the middle I should say. Not so bad, but nothing that made me very delighted as well.
Probably this is due to the fact that my previous speaker was a Klipsch ProMedia 2.1 THX Certified speaker system
. It has two drivers on each sattelite speaker and bigger power subwoofer.
Anyway, to be fair with the VS2621, I guess the sound quality is good enough, considering the size and price (Bose speaker has smaller size).
Bass sounds are good enough, though somehow I hope it can be a bit deeper.
Mid and trebles also sound good enough, the tone knob can be use to adjust the brigthness of these sounds, anyway, I've got no complain.
The speaker system total power is 28 Watt RMS (2 x 7.5W speakers and a 13W sub). Well, if I consider this small power, then the VS2621 sounds really good.
For more information of the specification, check this document.
Extra Features
Volume and Tone knob adjustment, and auxilliary mini-stereo jack in front of the right satellite speaker. No remote.
Price
Ah, the reason why I bought this speaker. It's $20 on the black Friday sale in Staples :D. At Amazon it's around $40 as of this writing. (Altec Lansing VS2621 2.1 Channel Speaker System
)
Conclusion
If you need a 2.1 speaker and you want a very affordable speaker that sound good, Altec Lansing VS2621 can be your choice. However, don't expect an exceptional sound from this speaker.
I believe casual music lovers will definitely love this speaker, but an audiophile will never consider it.
For gamers and movie fans, I think a good headphone will better satisfy their experience than this speaker.
Lastly, here's a video of a YouTube user reviewing the speaker.