Okion Temus™ Full-size Multimedia Stereo Headset with Microphone – AHS9M Review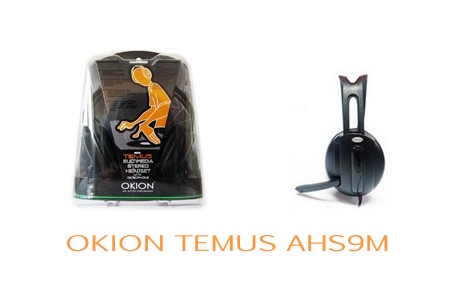 Just bought Okion Temus AHS9M Headset in Kuta today. I was really looking for a headset, headphone with microphone that is, so I can chat using Yahoo Messenger or Skype more comfortably rather than talking to my laptop monitor screen closely (since my laptop microphone is located on top part of the LCD screen).
Got several options actually, but somehow I got interested to this Okion Temus. Besides its friendly price (Rp 75,000), it's also has a big driver. I love big driver because I still believe the bigger the driver, the better the power, which could mean better sound and deeper bass.
I borrowed my friend's Sony Ericsson Walkman phone to test drive several headphones in the store before I decided to bought the Okion Temus.
Sound
Although the headphone comes with a price tag of less than $10 and thus can be considered as entry level headphone, the sound is quite impressive. It has deep bass (which I think due to its large driver) and yet clear treble as well. I know it is still far below my Sennheiser headphone, but this Okion Temus headphone surely doesn't disappoint me at all.
Score: 7.8
Features
It's a headset, so it comes with a microphone. The microphone is rather a small one, does not extend fully to your mouth position (not even close). Tested the sound, though I can't say that it's really good but it is acceptable.
Another helpful feature is the volume control and microphone on/off switch. I believe it is quite standard in all headset, but I still love its existence in this Okion Temus.
Score: 8.0
Comfortableness
Hmm.. This is quite tricky. The headphone has soft pad that close ear softly. However after about an hour of using the headphone I felt dizzy a little bit. I'm not sure, but I think it has something to do with it's closed system.
Score: 5.5
Price
One of the best part and crucial part determining whether it's a good buy or not. I guess it's still a good buy. At around $8 (Rp 75,000), you get a headset that is good enough. It is not the best headset you can have out there. But if you are in a budget, this headset surely is a good buy and I recommend it.
Score:8.5
Conclusion
Total score is 7.5
Yeah, the Okion Temus AHS9M I bought is really a bargain and I didn't regret buying it at all. For the price, I believe it is really a competitive product. If money is no issue, then you still may to consider Logitech headsets or Sennheiser headset, since their sound quality is well known. However, Okion Temus AHS9M is surely one of the best buy you can get out there.
This is my first Okion headset, and I think I will surely consider Okion products in the future when I'm buying headset and earphones.
| | |
| --- | --- |
| Sound: | 7.8 |
| Features: | 8.0 |
| Comfortableness: | 5.5 |
| Price: | 8.5 |
| Total Score: | 7.5 |