Samsung Yepp M1 Music Player 8GB Review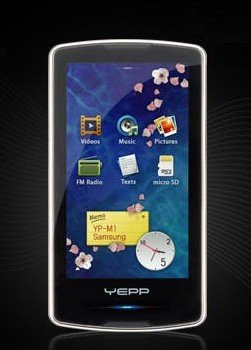 It seems that more and more of my work colleagues are getting "intoxicated" for a search of good sound quality, either through better headphones and headphones, or music player.
The new gadgets I get my hands to is Samsung M1 Music Player. It looks like a competitor of Apple's iPod Touch, because it is a full multimedia gadgets similar to many O2 Mobile Phones that not only capable of playing music files, but also playing videos, games, and other applications.
Look sleek, and I'm more than ready to review this cool gadget.
Physical Form and User Interface
It really looks like an iPod Touch with just a bit smaller screen size (3.3″ vs 3.5″) and smaller overall size too, but it's a bit thicker (99mm vs 85 mm).
In terms of user interface, I think it copied much of iPod Touch feel, so I don't have much trouble figuring out how to go around the applications. It lack a single cancel button like iPod Touch has though.
It's touch sensor is also a bit unresponsive compared to iPod Touch.
Sound
I've heard that Samsung phone sound quality is one of the best out there, and I hope it's true for their music player too. After copying a lots of standard songs I always use to review cans and music player, I immediately put it to the test.
It has myDNSe settings (don't ask me what is the DNS stands for..) and you can set the equalizer, 3D effect, Bass, Concert Hall settings (Echo), and sound clarity effect.
Cool!
All the settings are true to their name. Bass settings improve bass very well, and the sound clarity effect really increase detail sounds.
In short, I like it sound quality, and it certainly beat my iPod Touch and I believe even the other iPods as well.
Video
I've got to say that M1 handles video wonderfully. With a 3.2″ screen it surely got something to give. The resolution is also great enough to give pleasure to the watchers' eyes. Nice and vibrant colors. This probably is due to its nVidia graphic chip it uses.
etc
I'm telling you this little gadget has a lot to offer. It has bluetooth, FM radio, and out of the box it's loaded with a lot of applications too. It also has Text reader and several cool pre-installed games.
The built-in memory is 8GB but it has a micro-SD slot so it is extensible. Sweet! It means more music and movies. 😀
Price
My friend bought it for $130 here in Indonesia.
vs Meizu M3
It's normal if I immediately compare it with Meizu M3 because they both sounds better than average music player.
However cool is the SQ of Samsung M1, unfortunately it still fall short to Meizu M3. The M3 definitely touch down on this criteria. Though if you need a more versatile entertainment gadget, Samsung M1 is definitely a winner here.
vs iPod Touch
Allright, it is really a tough decision here. iPod Touch certainly won the coolness look and applications (by hundreds of thousands of them), but I prefer the M1 for its sound and video quality.
But if I got to decide, I will still choose my iPod Touch over M1.
Why? Because I like to read ebooks and play endless possibilities of games whenever I want to.
Conclusion
Samsung Yepp M1 is truly an entertainment gadget, you just can't get bored with this cool toy. In terms of sound quality, it definitely beat iPods family, I love it!
Videos are also played flawlessly, I watched the whole episode of 'The Big Bang Theory' on it and I still feel want to watch some more movies if I was not reminded that it's not mine. :p
In conclusion, if your ear can only be satisfied with more than average sound quality it is really a cool gadget that can accompany you around and make you happy.. really happy!
*Test environment
Earphone – Sennheiser PX 100
Music files
– The Very Best of MTV Unplugged – MP3 320kbps
– Dave Matthews Band – Big Whiskey & The Groo Grux King – Flac
– OST City of Angels – MP3 192kbps
– Jason Mraz – We Sing, We Dance, We Steal Things – Flac