Sony MDR-7506 Dynamic Stereo Headphones Review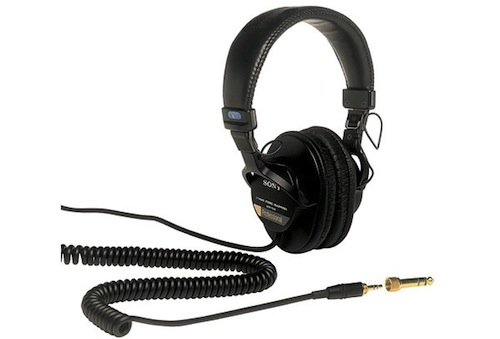 My roommate bought another Sony headphone to replace his Sony MDR-NC6 headphone that I reviewed a few months ago. The Sony MDR-7506 looks a bit bigger and sturdier than the MDR-NC6. The other two things that interest me is the label 'Professional' it has on both headphone, and 'Studio Monitor' written on the over the head pad. This must be good.. 😀
Well, indeed it is, check out this following review:
Sound
I'm glad to say that this is the first time I like the sound of Sony headphones. 😀
I'm not kidding, the previous two Sony headphones I tried has no power nor any special attribute. One was the MDR-NC6 I mentioned above, and the other was old Sony headphones my work colleague has (I don't remember the product series).
And this time, it immediately hits a home run. The sound quality of MDR-7506 is really good. It's clear and detail. The detail is helped further by the good ear pad, providing good sound isolation. I don't want to say this, but it beats my favorite Sennheiser PX-100 in terms of sound clarity.
For those of you who are interested in bright vs warm sound, this headphones can be categorized in bright sound domain. So if you are a bass head, you probably won't get satisfied till you turn the volume louder. But if sound detail is important for you, you won't be disappointed by this headphones.
With a good amplifier I believe this headphone can deliver even some more sound quality.
Physical Form
It's a full size headphone, but foldable and it's not heavy so it can be carried around quite easily.
It's not exactly a noise-cancelling headphone, but the earpads seal very well.
The headphone cord is coiled (like the telephone cord) thick cord, this really is the characteristics of the headphones designed to be used in music studio.
Nothing special with the overall headphones design, it rather look like some classic earphone.
Price
In Amazon it's price is $89. I can say it's an appropriate price for a headphone with this quality, though most of the price most probably comes from the Sony brand. :p
Buy or Not?
If you are looking for headphones to use indoor, you can definitely consider the Sony MDR-7506. The sound quality is one of the best I ever heard, and yet it's price won't put a hole in your pocket.
If you need a portable headphone, it is foldable so in case you want to use it with your iPod, it's still a good option. Unfortunately, the design is not one that can make you look cool.
The professional label really delivers what it promised. 😀
*Songs used in this review:
– Sahabat Kecil – Ipang – OST Laskar Pelangi – MP3
– Jamiroquai – High Times : Singles 1992 – 2006 – MP3
– Linkin Park – Meteora – Flac
– Jason Mraz – We Sing, We Dance, We Steal Things – Flac